Get a PTO Discount Card Today!
Support Fountain Hills Schools While Saving Big
Now with 22 local businesses!
As the Fountain Hills Unified School District PTO, our main goal is to raise funds throughout the year through discount card sales, donations, sponsors, and fundraising so that we can support the needs of our children, teachers, and administration. We have supplied thousands in books, funded STEAM equipment and homework labs, and purchased classroom supplies, just to name a few.
The PTO Discount Card is good for a full year (August to August). Check out all the awesome deals offered from our participating Fountain Hills businesses! You can purchase your cards online at the link below OR you can purchase them for CASH ONLY at all three schools, at the FHUSD Main District Admin Office or at the UPS Store in Fountain Hills.
Get your card for only $20!
Bulk Discounts Available!
10-50 Cards = $15 Each
51-100 Cards = $10 Each
101-500 Cards = $8 Each
501+ Cards = $7 Each
Our discount card is perfect for welcome presents, as stocking stuffers, for staff and client appreciation, or as neighborhood gifts! To order yours in a bulk quantity, just email info@fhusdpto.org.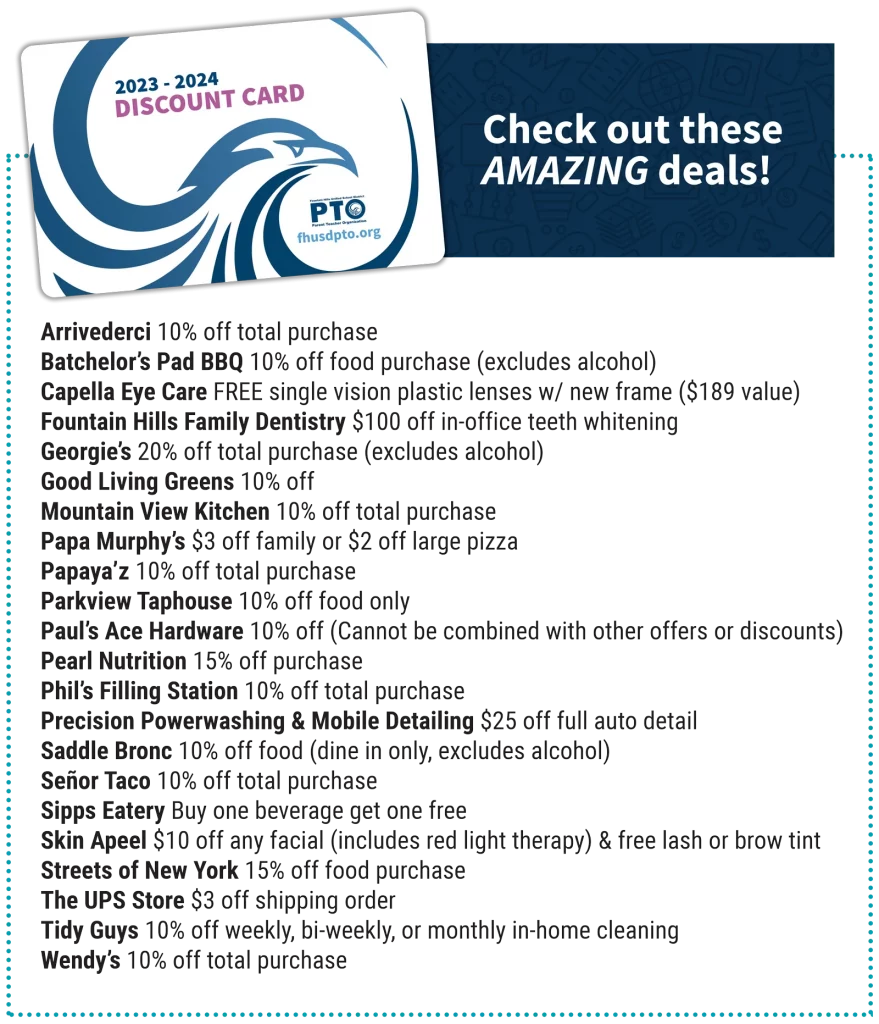 Purchase your Discount Card today!
Ready to support our school with a PTO Discount Card purchase? Just fill out the form below! Then you'll be directed to a page to purchase your cards through PayPal. Cards will be mailed to the address you provide below.
Step 1: Fill out this form